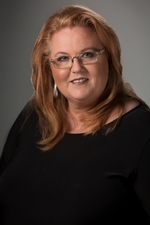 918-798-6590
918-341-6115 fax
918-798-6590 cell phone

teresacollins@oklahomes.com
2104 S. Hwy 66
Claremore OK, 74019
Receive Email Alerts from Me
Teresa Collins grew up in Coffeyville, KS where she lived until she met and married her husband Bill Collins, Jr. Bill is the love of my life, she said, We were a blind date that just happened to work out. Together they have three sons and one daughter in law. They have lived on a little farm in Chelsea for the past 23 years and they have been members of the Presbyterian Church in Chelsea for 12 years.
Teresa and Bill published her book Low Fat & Happy in 1997. This opened many doors for Teresa, public speaking engagements and television just to name a few. In 1998 the proceeds from her book were used to open Café Rene in the Will Rogers Hotel, fulfilling an 18 year dream. The year 2000 saw the opening of another business venture for Teresa, an antique store. These paths in her life have led her to where she is today, a successful REALTOR®.
After launching her real estate career in full force, Teresa sold her first home in just six weeks. Real Estate is something I've always wanted to do, I love working with people, and it is something I take very seriously. From the first time home buyers tears of joy, to selling the family home it is an experience like no other, and one which I'm very proud to be a part of, says Teresa. Her past clients will tell you they become her extended family. You have her assurance that she will work hard to build a trusting relationship for life.
Teresa Collins 's Listings