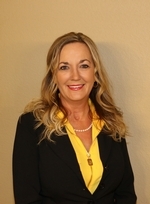 918-939-9188
918-341-6115 fax
918-939-9188 cell phone

tammy@oklahomes.com
2104 S. Hwy 66
Claremore OK, 74019
Receive Email Alerts from Me
Tammy Dorland lived in Hot Springs, AR until her husband Shannon came the Arkansas Derby and swept her off her feet.  They have two adult children Matthew, Loren and their fur baby Molly.  They now live in Claremore in a home that they designed and built themselves. 
Oklahomes was her first choice of agencies to work with because of the at home atmosphere and the closeness of the entire team.  She says, "it feels like family and I believe that I can thrive here." 
In Hot Springs she was partners in a Real Estate firm where she and her business partner built and sold new homes.  She worked for 13 years as a Paramedic and loved every minute of it, with the extra time that career allowed her she started a very successful cabinet design and distribution company that her partner bought her share, when she made the decision to move to Oklahoma. Tammy has been around and in construction all her life starting with her father and has a great passion for home design and construction. 
If you are looking for a very motivated, honest and helpful REALTOR, Tammy is the right choice for you.  She will work very hard to help you find just the right home or sell your current home.